How to Perform 50+ WordPress Security Tests in Under a Minute
Read Time:
5 Minute, 54 Second
On large platforms, such as WordPress, you should protect yourself as much as possible from any threats that you or your visitors might encounter. That is why it is very important that you take care of it and start thinking about it in time before it is too late. One of the ways you can protect yourself is with good and quality security plugins and one awesome example is Security Ninja. With this plugin, you will get an answer to the question of How to Perform 50+ WordPress Security Tests in Under a Minute.
Security Ninja
Security Ninja is simple and easy to install and configure. The main premise of this plugin is to perform security tests on a WordPress installation without any user intervention. All you need to do is simply download it, install it, and enjoy! As a very brilliant plugin that tests your security in just a blink, Security Ninja has been around for a very long time, more than 11 years to be exact. Also, it has a significant following of devoted users who will enthusiastically suggest it to you.

The free version and the premium version are the two choices available for Security Ninja. We anticipate that the free version will initially be more appealing to you and that you will prefer it over the paid version simply because it is free, but this does not necessarily indicate that it is the ideal option for everyone. You will receive a lot more features in the premium version, which we strongly advise.
This plugin, which you can get at this link, is worthwhile buying. But what if you just want to test it out to see how it works? Then you will probably prefer the free version at this link. And if you want to try this plugin right now, do not worry because you can do it right now using this link. Do not be shy to try it out.
In the following, you will be able to read more about Security Ninja and all the features that are offered to you within it.
Cloud Firewall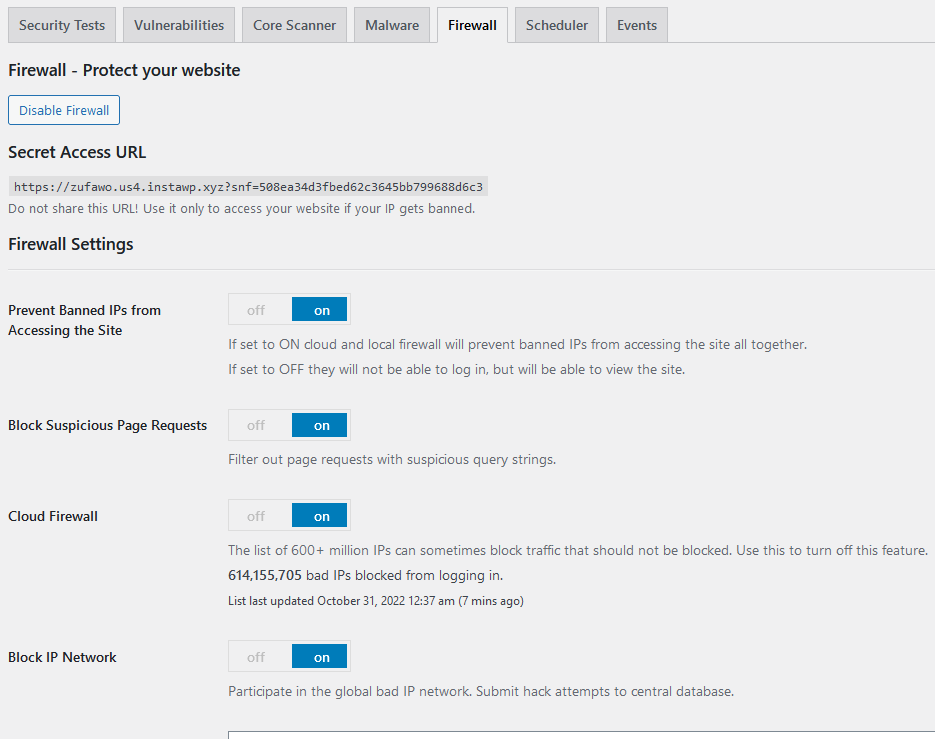 The greatest form of protection is to stop malicious individuals from ever accessing your website. To harm your website, attackers usually try to insert harmful content or code into your website. By using Security Ninja's firewall, you will be able to reject threats that could infiltrate without your knowledge. Each data is scanned by Security Ninja, which then analyzes each response to see if there are potentially harmful code present right now. Also, all incoming traffic is examined, and harmful attempts are blocked.
Malware scanner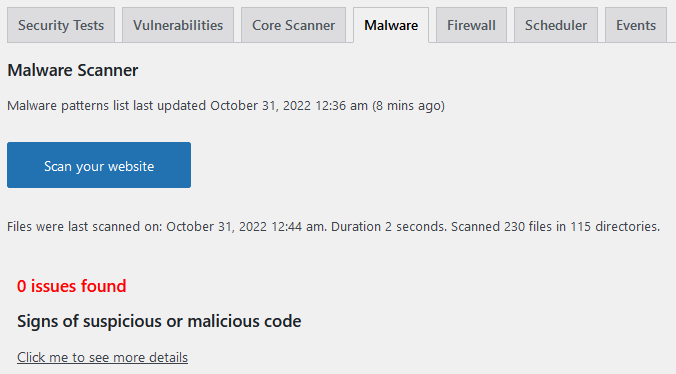 No matter how well you protect yourself, your website can still be hacked and that is why Security Ninja will come in handy. With a Malware scanner, you can easily view any malicious files or links on your WordPress websites. It also detects and prevents such files from being hosted on your website. Just launch the scanner and you will be able to see everything for yourself. You will be able to scan all plugins and theme files regardless of whether they are activated or not.
Core Scanner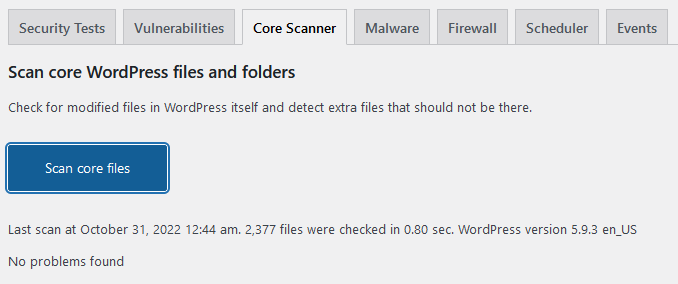 Security Ninja has made many invaluable improvements to its core scanner, and now it is a very powerful tool indeed. You should be most concerned about your core because it is the most important thing for your website. Therefore, you need to check for any viruses in those core files of your WordPress website. If Security Ninja finds any unknown files somewhere and changes to those core WordPress files, you need to react quickly. With the Core Scanner module, you can react to just that. You will quickly be able to check for modified files and fix any problems it encounters.
Scheduled scanner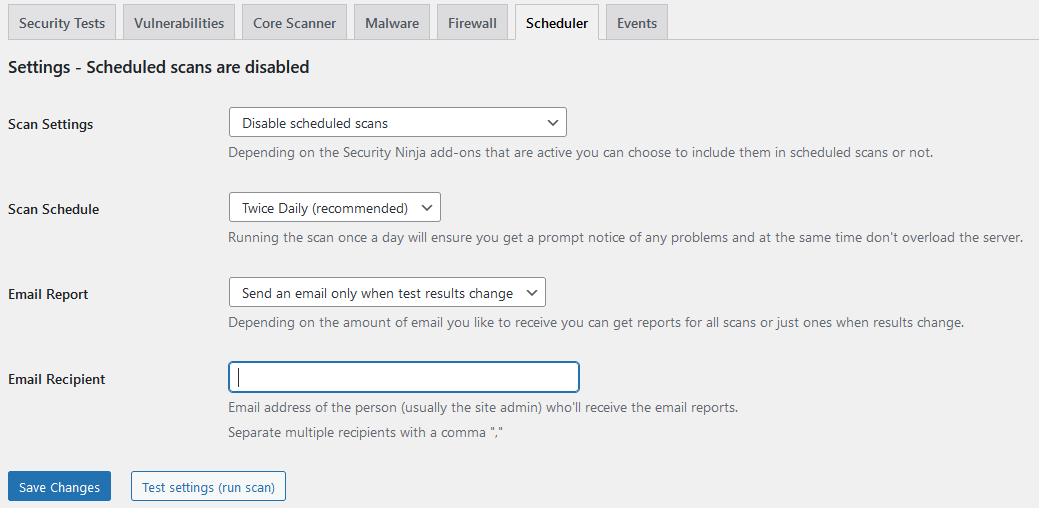 Everyone can forget to turn on the scanner sometimes, but with Security Ninja and its Scheduled scanner feature, you will not have to worry about that. All you need to do is to set your date when you are going to scan your website and you can do that even once or twice a day. You just must choose what you want and go about your daily business. You can order it to scan automatically, and you can also order it to alert you every time something suspicious is detected. Besides that, you have the option to add more notifications that will be delivered to your email if you so want.
Events Logger
The next feature in line, which we will write a little more about, will help you maintain an event log to highlight all the important activities on your website. You will not miss anything since it will be simple for you to keep up with all of the events and activities that happen on your WordPress website. It will be a really nice and strong feeling to know what has changed and who is responsible for all of these changes in the blink of an eye. Your ability to respond to them and document what transpires will be automatic.
Vulnerabilities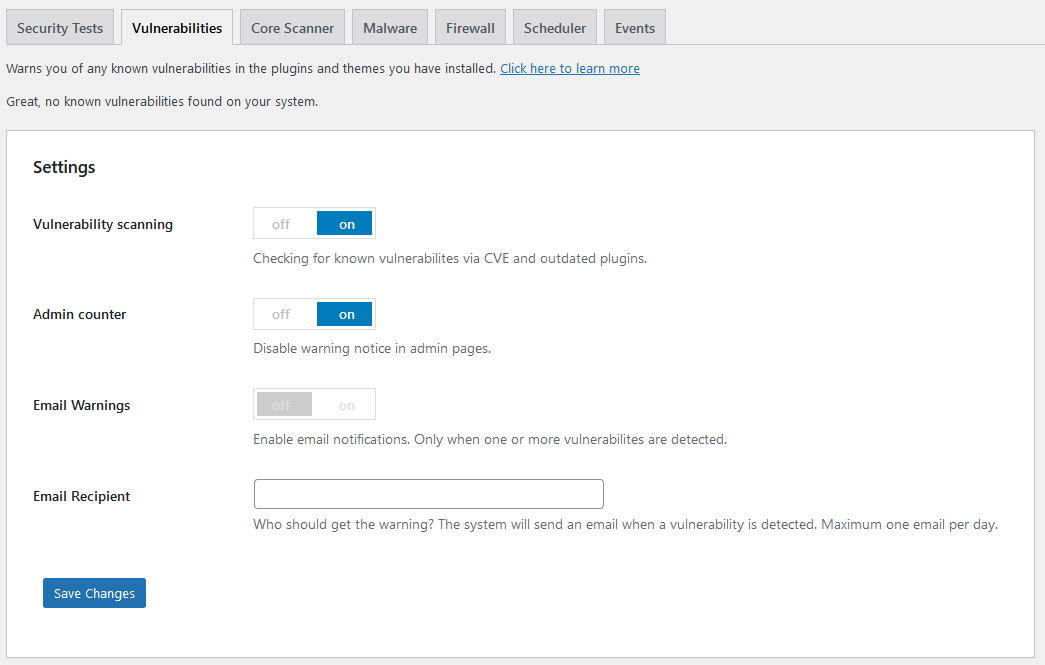 A WordPress vulnerability is the most threatening risk that you have when you set up a website. By using Security Ninja and the vulnerability scanner, you will be able to discover any flaws that your websites may have. You will be able to fix all of these issues just by pressing the button. You can check your WordPress website for vulnerabilities completely free using Security Ninja.
Whenever there is a widespread issue with a plugin that makes it possible for attackers to breach your website, this feature will alert you immediately. Security Ninja will first search open-source software databases for WordPress-related vulnerabilities, and then they will match the results to the list of plugins that are already installed on your website.
Security tests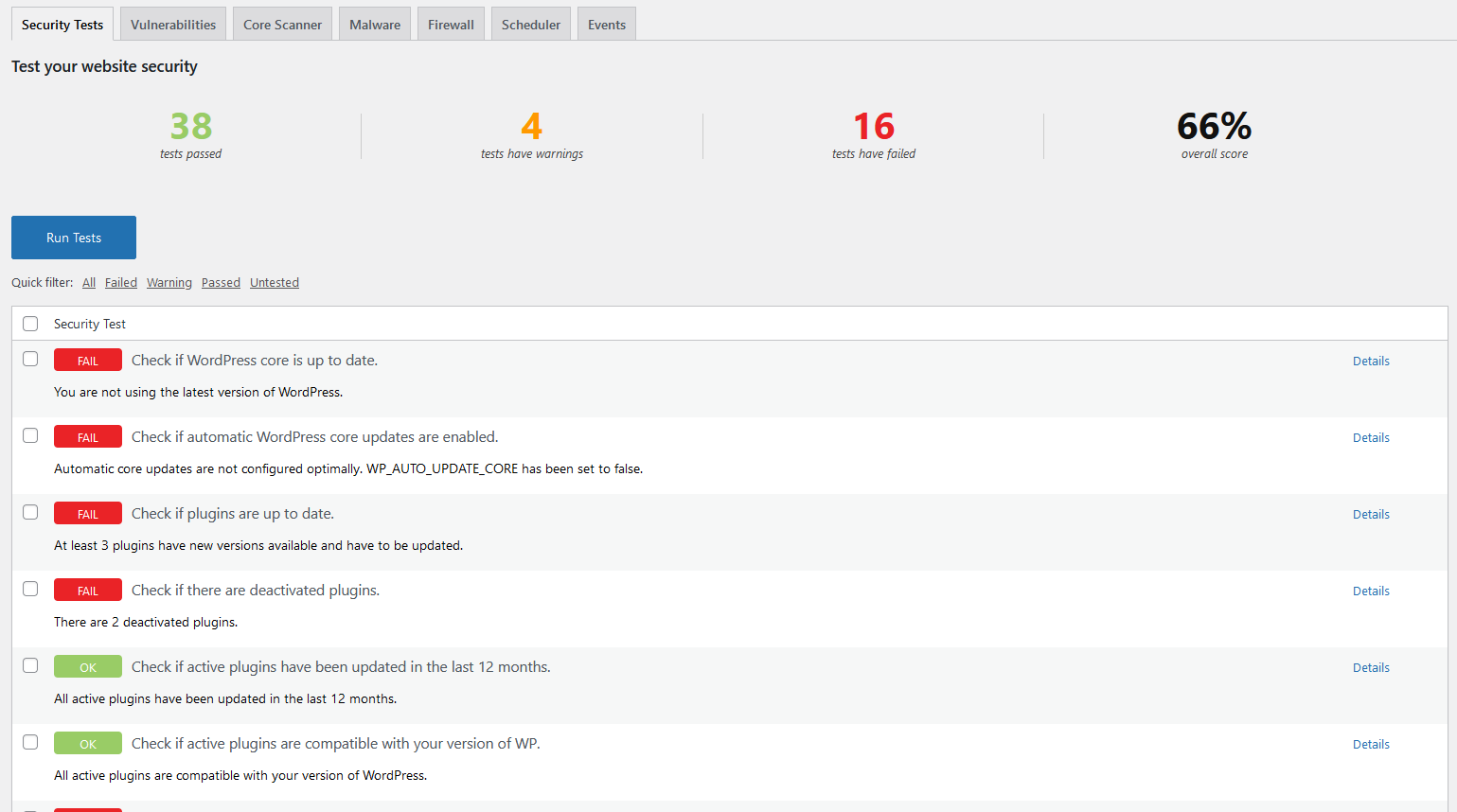 There are security tests that can help you find the vulnerabilities which can be present in your WordPress website and the software that you are using. If you want to know everything about your vulnerability that you will be able to fix in the blink of an eye, you can also make use of Security Ninja's services to check for any vulnerabilities in your WordPress websites. It is a smart idea to check your websites at least once every two weeks to ensure that they are safe.
Conclusion
You should be absolutely sure that you will be completely protected, and you will be able to turn that feeling of security into reality with Security Ninja. We hope that this article has helped you understand that your security on WordPress is very important, and we hope that you will try out Security Ninja for yourself.
It is the most solid and reliable option among them all and we are sure that you will like it very much. Having this plugin installed in your WordPress installation will allow you to perform as many security tests as you want on a WordPress in a matter of seconds. And the best thing is that you will never need to worry about being vulnerable on WordPress, thanks to Security Ninja.