Summarize and analyze meetings with an AI assistant
Read Time:
4 Minute, 28 Second
Have you ever found yourself stuck in a rut at work, despite your best efforts to concentrate, and knowing that the day ahead will be challenging? You need to raise your general productivity if you want to be able to manage better when days like this arrive. The capacity to carry out assigned tasks within a predetermined amount of time is one definition of productivity. It is defined as accomplishing goals within the allotted time, and it is critical to have an understanding of how to do so without sacrificing the quality of the work.
In this article, you will learn about a helpful piece of software known as Instaminutes that may not only increase your overall productivity but also help you with the most minute aspects of it in order to improve the productivity of both you and the team that you work with.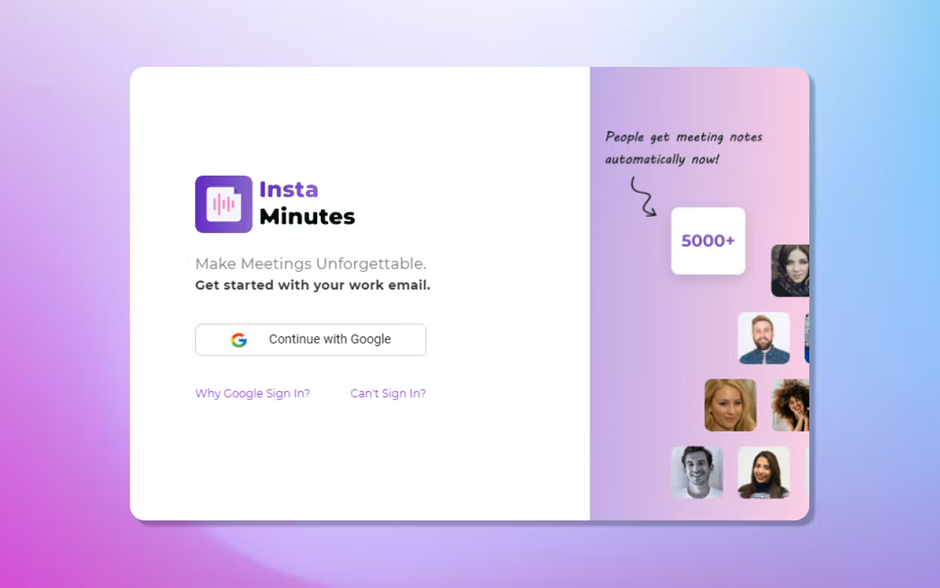 The speed and efficiency with which Instaminutes records meeting information make it a remarkable tool. This innovative program has many functions that will boost your business's efficiency. It will save you a lot of time by summarizing information from user interviews, conferences, or team meetings.
With all of its advantages, it is ideally suited for new businesses that want to improve teamwork, maximize efficiency, and speed up the pace at which they produce results.
How does it work?
Adding the Chrome extension or integrating Google Calendar would allow you to begin recording your meetings with AI in no time. The dashboard will be updated with the most pertinent insights picked out by the AI. In addition to turning your audio into text with the help of cutting-edge AI, it will also summarize and highlight the most crucial points in a handful of takeaways that you can find in a dashboard. Aside from that, you can pick and highlight the most vital learnings.
To give just one example, any competing software would merely transcribe the talks in a dry, cramped manner, leaving you with text that would take a long time to process and distract you from your original goal.
But with Instaminutes, you'll have a whole conversation that's been carefully chosen and organized into cards you'll actually enjoy using. Everything will be tracked and recorded live, with the transcripts sent to an intuitive dashboard from which you can draw further conclusions.
Integration
It's compatible with a wide variety of CMS systems, including Chrome, Zoom, Cisco WebEx, Microsoft Teams, and more. You can immediately begin using it once you sign in and sync your calendar. It really is that simple.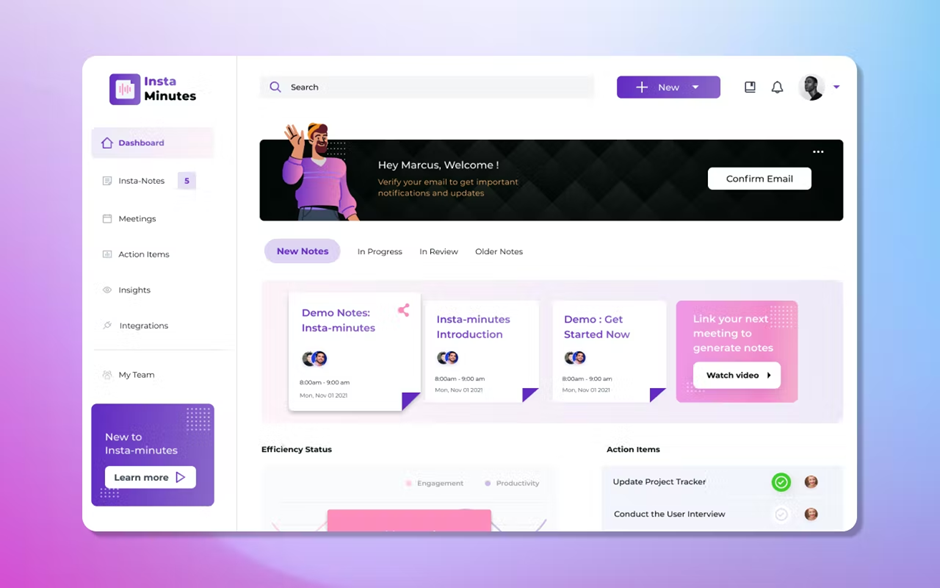 You can record and replay the most important sections of a lecture or lecture series in order to memorize them, and you can organize your takeaways into short audio notes that you can listen to as often as you like.
Your meetings will be presented by Instaminutes in a different and sophisticated chart view, which will enable you to easily handle only the most important information and duties. Questions and answers, tasks, and feature requests from users can be converted to workflows and shared with your team via Slack, email, or via more than 50 integration platforms. This will increase your productivity and save you a great deal of time that you would normally waste using any other software!
Security
Instaminutes takes data protection very seriously, as seen by its compliance with the most recent GDPR laws, as well as its AWS certification, which demonstrates that it utilizes AES and SSL encryption. Because of this, none of your discussions will be saved in any way, and the only person who will have access to them is you.
In terms of ground-breaking artificial intelligence, as time goes on, using a mechanism called machine learning, it will track your work and learn every time what the most significant points are for you, and it will summarize them accordingly.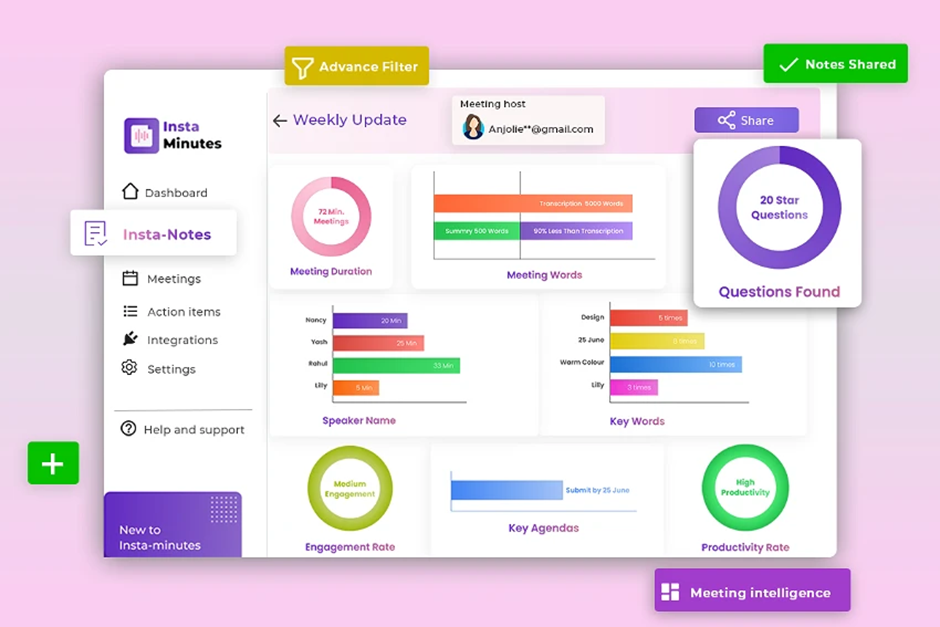 You will have access to all of the relevant facts regarding your team as well as your coworkers if you have an outstanding dashboard. Following each interaction, you will be able to gain insight into the following: the number of participants who were present, the person who spoke the most, the length of time the meeting lasted, a summary of the words discussed, the engagement rate, the productivity rate, and a great deal more.
The Advanced Filters will allow you to tailor the amount of attention that is paid to particular speakers or topics.
When you use Instaminutes, you are not restricted to only using the version available for your personal computer; rather, you can also use it on your mobile phone, which is an incredible feature.
All of the notes and insights from the meeting can be safely stored on the cloud for later use and to be shared with those who are not a part of your team. The most useful function of this program is its ability to convert previously recorded meetings into key takeaways that will get you back on track in a matter of seconds. Instaminutes has this capability.
Conclusion
When it comes to increasing productivity, we have discovered that Instaminutes is the most effective method. Not only will it repair and improve the quality of your work, but it will also assist you in organizing your duties and goals while providing you with a variety of specific insights. It comes with our highest recommendation.