Best Grammarly Alternatives For Error-Free Writing
Read Time:
5 Minute, 3 Second
Whether you are a copywriter, a blogger, a researcher, or somebody else who writes on a daily basis, you know that one of the most important features of a good text or a business email is correct grammar. In order for your work and therefore you to appear professional, there should be no room for typing errors or grammatical mistakes.
However, noticing those mistakes without the help of a typing assistant requires endless re-reading and still comes with a risk that a certain number of mistakes will remain overlooked.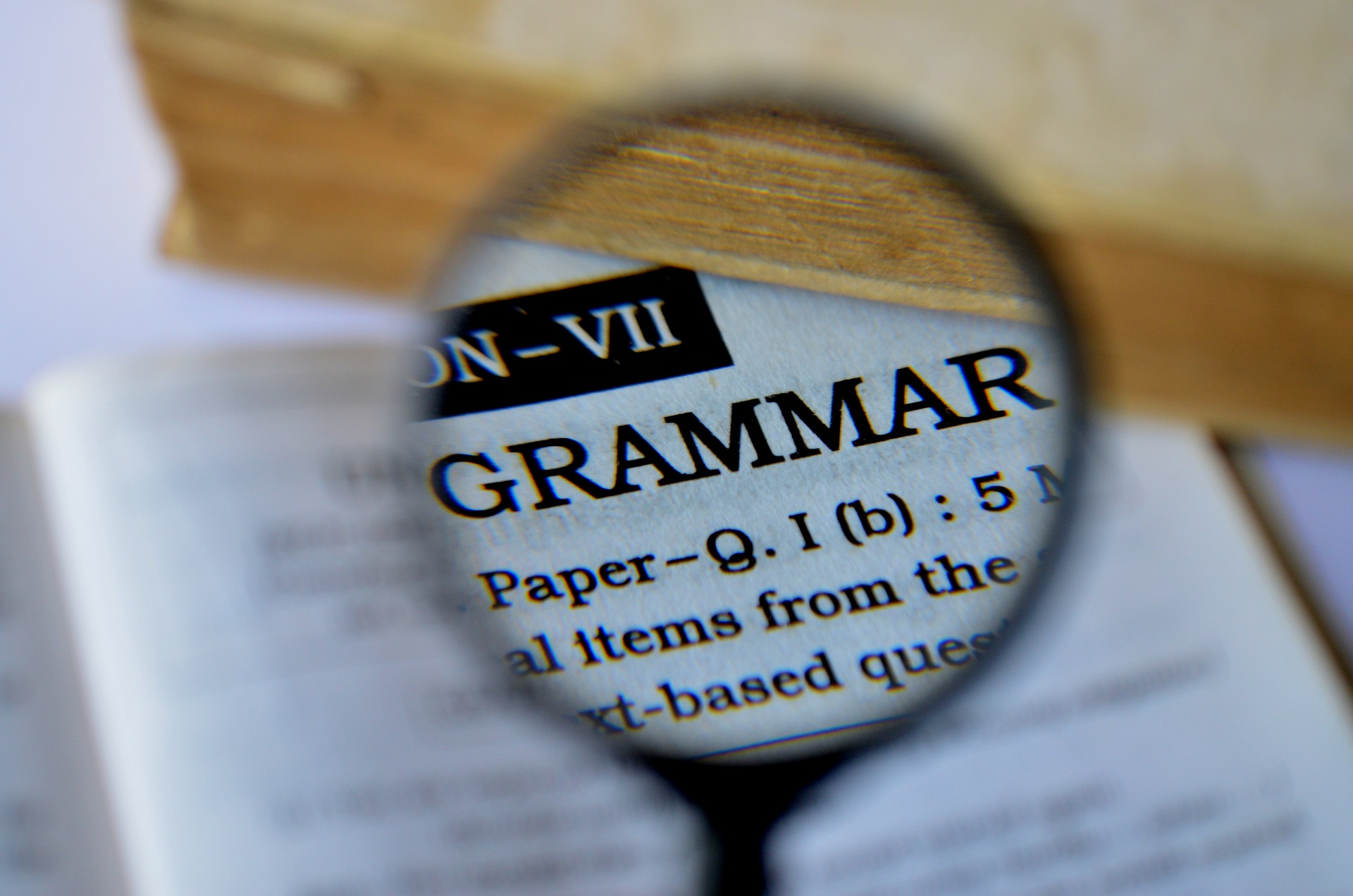 One of the most talked about grammar and spell-checking tools on the market is Grammarly. Even though it can spot misspelled words, punctuation, and imperfect grammar, it does not always work perfectly and might not be the best solution if you are working on a tight budget. This is why we have compiled a list of some of the best Grammarly alternatives.
1. Linguix
Apart from spotting all the typos and grammatical mistakes in your writing, Linguix is a tool that will also rewrite your sentences in order to achieve the text's clarity and consistency. It is perfect for content creators, marketing agencies, and sales managers, as its AI-powered writing assistant will recommend an adequate vocabulary and style solutions, working flawlessly every single time.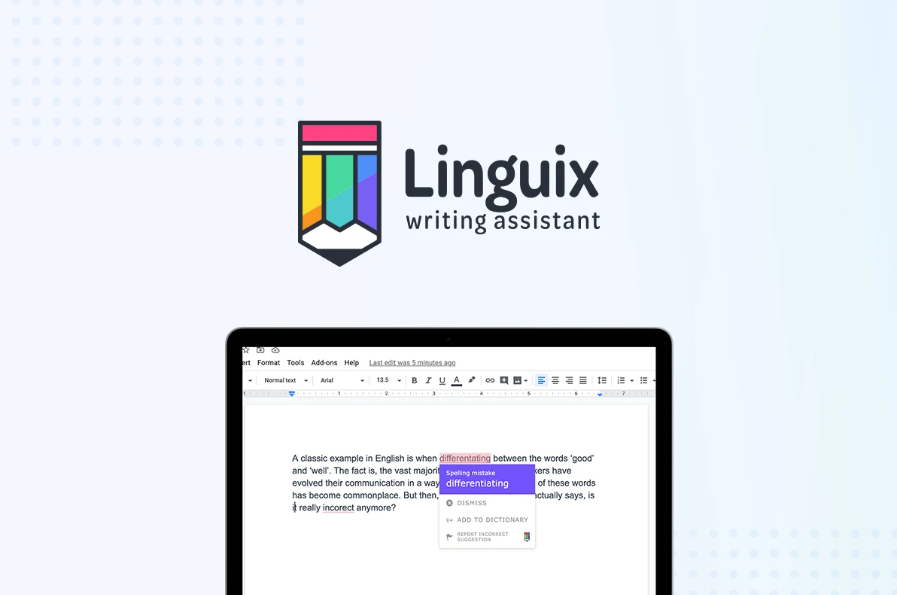 Moreover, its rewriter tool will help you rephrase complex sentences in order to achieve better text comprehension, making sure your writing is perfect even though you might not be a native English speaker.
You will be able to choose between multiple rewrite options and enhance your text in a matter of seconds, simultaneously getting rid of confusing sentences and therefore ensuring better quality and context-appropriate wording. When it comes to writing preferences, Linguix makes is possible to easily create your own styling rules, which is especially useful for writing products with feature names that have a specific spelling.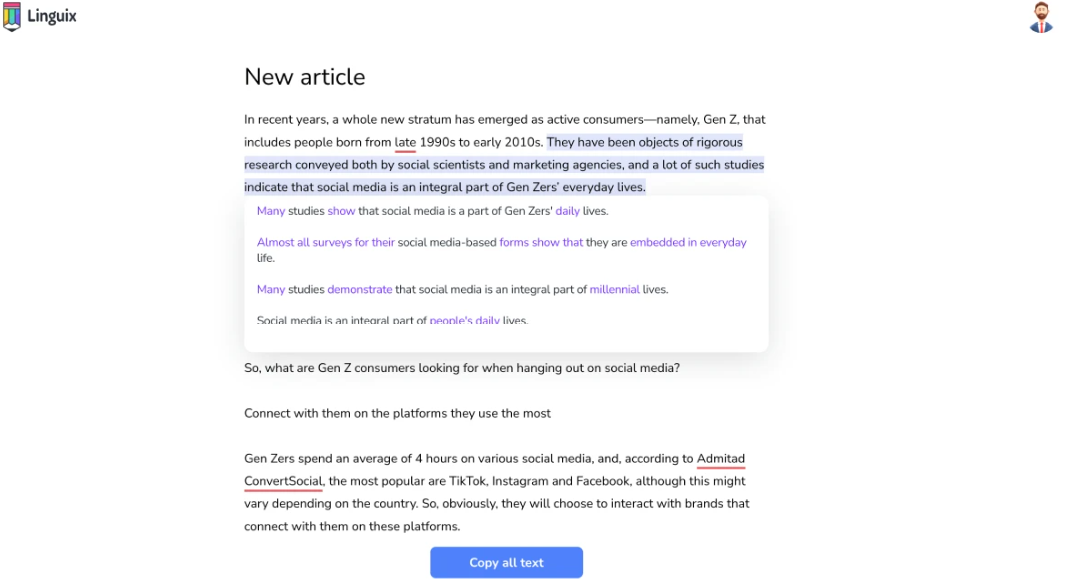 Furthermore, with Linguix's web browser extension you can save valuable time by using pre-drafted shortcuts to write social media posts and emails. Its web editor can be opened on any device which means you can get the best grammar and writing support anywhere you go.
Linguix offers several payment plans you can choose from according to your business needs. It is a lifetime deal, which means that you will never be charged again. Linguix comes covered under the 60-day money-back guarantee, which gives you two months to decide whether it was the right choice for you.
2. ProWritingAid
ProWritingAid is another great solution that offers similar features as Grammarly. Additionally, it includes an alliteration analysis as well as a dialogue tag check. As a browser extension, it is compatible with Firefox, Chrome, Safari, and Edge.
It comes with a plagiarism and style checker, synonym suggestions as well as extensive writing reports. ProWritingAid can be easily integrated with Microsoft Office, Google Docs, Scrivener, and other compatible writing software.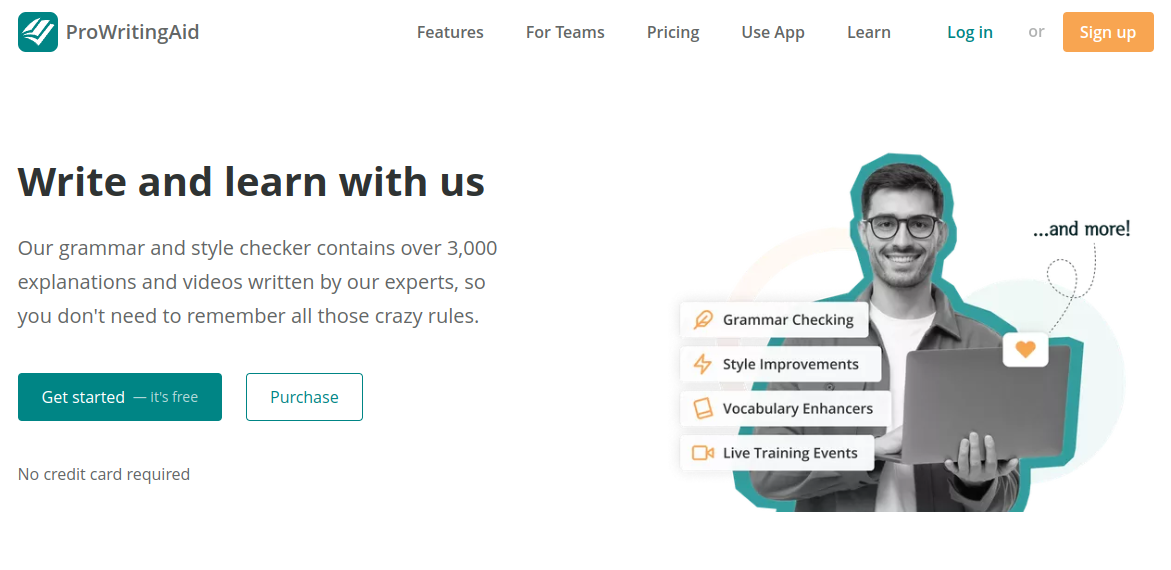 As far as the pricing goes, you can opt for a monthly, yearly, or premium option, depending on your business writing needs and preferences.
3. Hemingway App
Hemingway App helps you get rid of complex and inconsistent sentences by replacing them with a direct and poignant writing style, similar to the one popularized by the famous American writer. Whether you are using a free online version or a paid desktop app, Hemingway App will make sure your writing is bold and clear, providing you with a useful readability score, formatting toolbar, and error-spotting technology.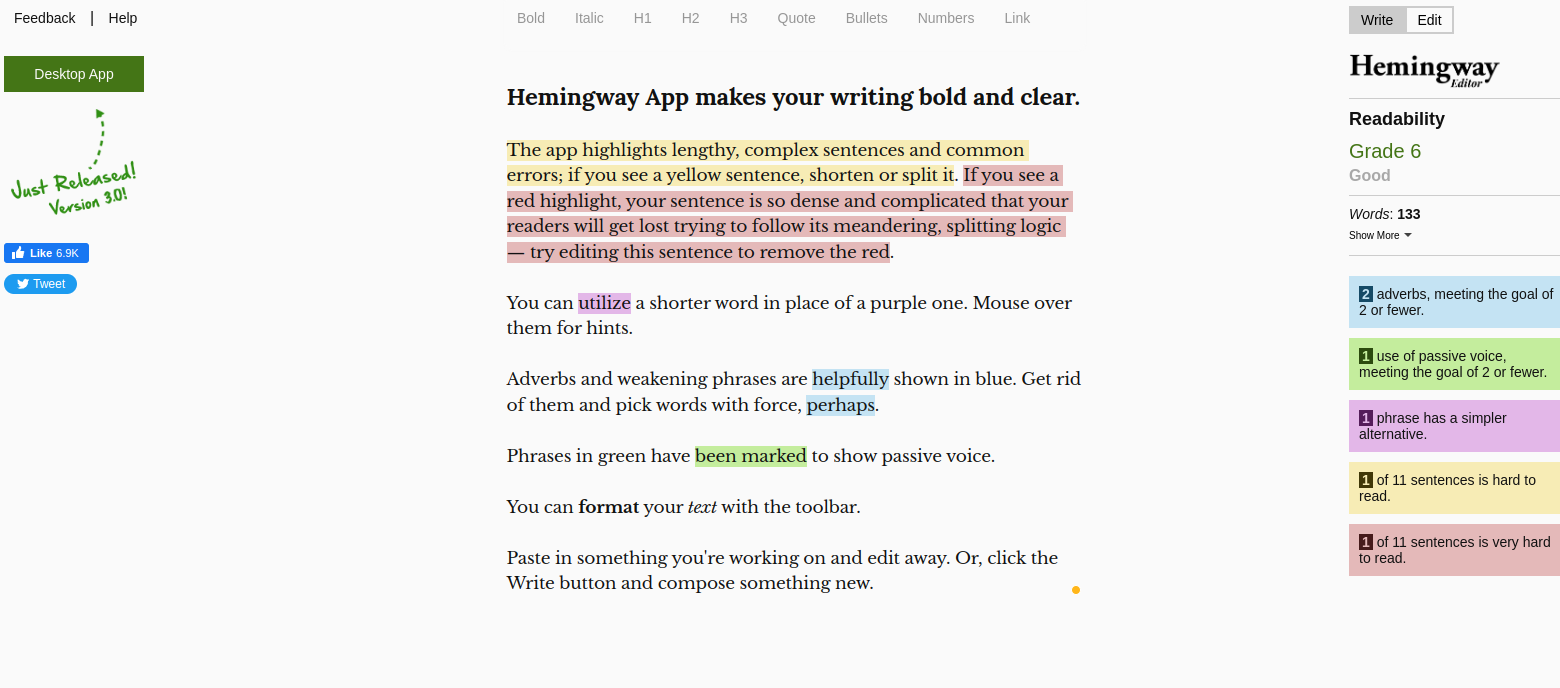 4. WordTune
WordTune is not just another spell-checker, but a software focused on rephrasing and full sentence rewriting. Once you have typed in your sentence, WordTune will offer you several rephrasing suggestions. It also highlights a phrase to get synonyms and is available as both the browser extension and online editor. Whether you want to rewrite the text, make it casual, make it formal, shorten it or expand it, WordTune has it covered.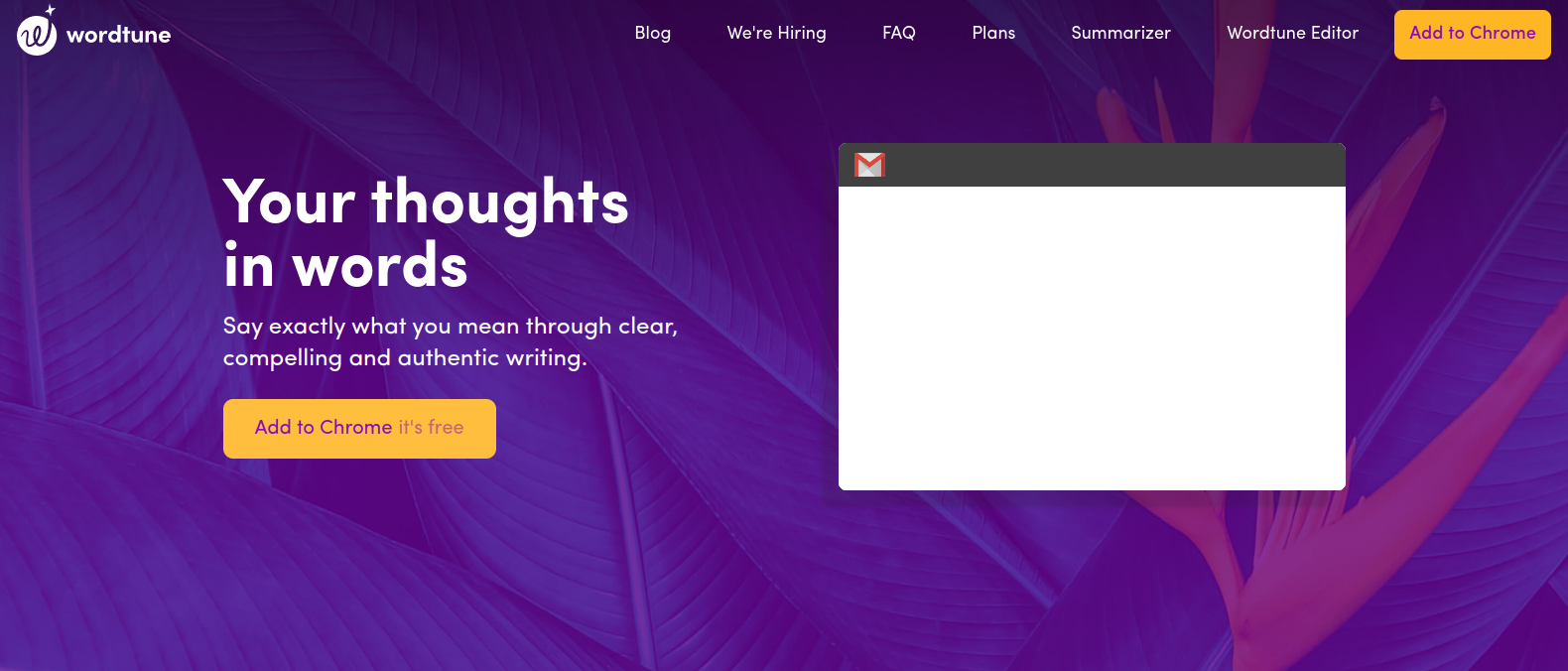 5. Reverso
Even though it is known primarily as a translation tool, Reverso includes great spell-checking and grammar features for both English and French, which will help you improve your writing and language skills. Other features include dictionary lookups and rephrasing suggestions related to context, both provided by Reverso itself. Its interactive grammar checker is designed to boost your creativity and writing style, not leaving space for any grammatical errors.

6. Slick Write
Slick Write combines some of the most convenient previously mentioned features for the total price of zero. Whether it means taking care of overly complex sentences and excessive verbs, managing the text flow and vocabulary, checking the writing style, or online editing, Slick Write has your back. Moreover, one of its best features is the ability for you to customize the given feedback, for example, choose whether you want to include passive voice.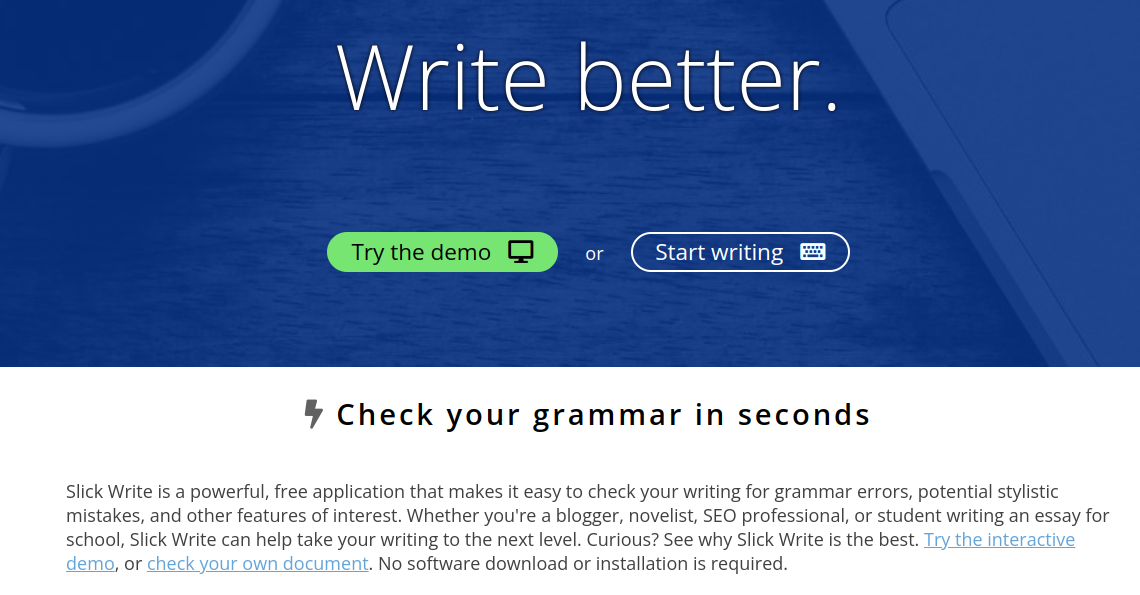 Your main editing page will show you all the statistics related to the text you are working on, including readability, average sentence length, estimated reading time, and more. With no more than a few clicks, Slick Write allows you to check your phrases on online databases such as Wikipedia, Urban Dictionary, or Google.
Conclusion
When it comes to grammar checks, editing, or rephrasing, choosing the right writing assistant should depend on your writing needs. If you are managing a business, you should consider its size and workload in order to pick the right software to do its magic. After comparing all the previously named Grammarly alternatives, our recommendation is most certainly Linguix.
With its user-friendly interface and AI-powered spellcheck and grammar technology, writing consistent and error-free text or email has never been easier. Let's not forget that Linguix's smart shortcuts will automize your everyday typing tasks and therefore save your valuable time, offering several rewriting options for you to choose from while you are working on the text. Lastly, Linguix is compatible with an abundance of writing platforms, including Google Docs, Slack, Asana, Frase.io, and more, which makes it a perfect choice for both beginners and professionals who care about their content.